CLINICAL TEAM:
CLINICAL TEAM: Doctors, Nursing staff, Ambulance staff
What do they need to know:
If the clinical teams are not used to working with vulnerable populations it's important to have sensitisation sessions (importance of providing respectful care and its impact)
Not assuming people have all the information or able to find it and therefore providing pre and post counselling on what to expect (fever, flu like symptoms etc.),
When to come back for the next dose, ask if there are any questions and respectfully answer any questions or concerns, however basic they may seem.
For special populations such as elderly, people with disabilities, sex workers, trans population that have specific health related questions and poor experiences interacting with health systems, clinical teams should be briefed on how to answer them most sensitively.

Due to COVID many people have not accessed clinical care even if they needed it so if special population camps are being organised, having additional areas where general clinical concerns can be addressed could be very beneficial for these populations.

Many of those with alcohol dependency returned from the vaccination camp without taking the vaccine because their questions about reactions with alcohol were not answered or they were told that they could not drink for long periods if they took the vaccine.
NON-CLINICAL STAFF:
Who are they: Local volunteers, Frontline staff from NGO/CBOs, Self Help Group members, Youth Club volunteers, Civil defence staff such as home guards and others can perform critical functions such as crowd control, data entry, supporting those with special needs, ensuring safety of VPs and respectful treatment, ensuring COVID appropriate behaviours etc.
What do they need to know:
Importance of providing respectful care
Digital literacy for those doing data entry
Both male and female volunteers should be available at camps
Understand how to escalate any issues
Familiar faces and trusted volunteers are key for making sure very marginalised populations feel comfortable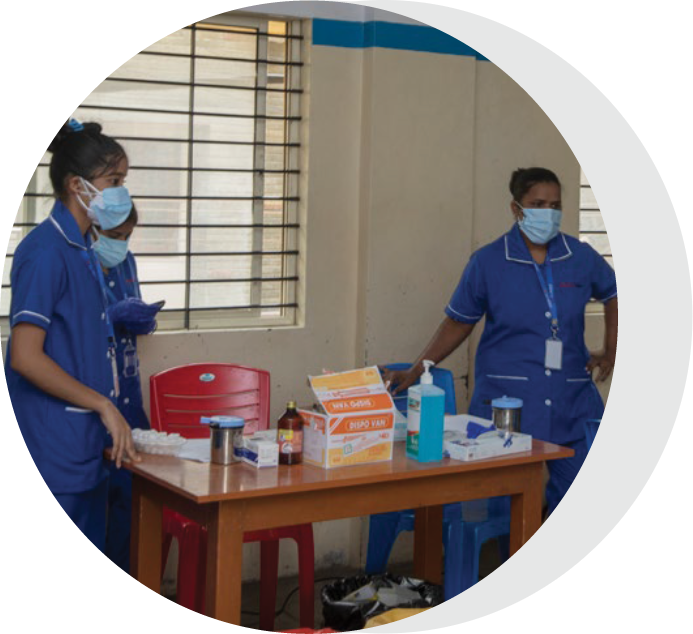 Situationally aware camp management:
Anticipate interference and disturbances and have community leaders and senior managers at hand who can handle issues as they come up.
Security: Using or alerting local police or other security agencies during large camps is key to ensure safety of staff and beneficiaries. Dynamics of certain populations with security forces must be considered to ensure people do not avoid camps due to their presence.